I'm ever so slowly getting code to run. I now have a plot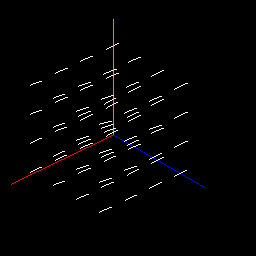 of one coil, close to the axis. Red is x, green is y and blue is the z axis. The magnetic vectors don't have directions. It is possible to add, but I'd rather work on getting the other coils added, increasing the compute volume and start adding electrons.
The 3D to 2D transform has been fun. I can see why graphics folks have a blast. Not to mention games. All I'm doing is checking math in a visual way. Each vector is the average of an 8 x 8 x 8 set of values. So it's a nice way to quickly tell when I'm totally screwed up (which happens way too often if I don't check every darn step of the way).
I'll post more when I get it.