OK, Here is how we keep the zero field cusp region localized radially.
Thanks Kiteman for pushing me to look 3D.
Assuming the field goes in through the main square coils, the field goes outward at locations between the zero field point and the wall and inward at locations between it and center of polywell).
I see the zero field region as an octahedral star. Which is the X from above with tails leading toward the center and away from the center of the polywell.
It is located at the middle of the edge of the cube at the radius of the polyhedron from the polywell center.
There is no zero-field path from the inside to the outside.
It also provides a point cusp aligned with each face and each corner. (in series with the normal ones)
It is based on truncated cube.
The polyhedron is at the midline where the 2 different coils touch.
Think Bitter coils.
Pardon not showing all the coils and there are many small glitches in the model.
The coil taper angle is shown optimized for thermal.
Angle could be optimized for magnetic field or other stuff.
There are several coil shape permutations. For example, they could maintain their planform over their radial length.
Conforming to the field lines will take some serious FEA modeling.
Corner View
Face View (some coils not shown)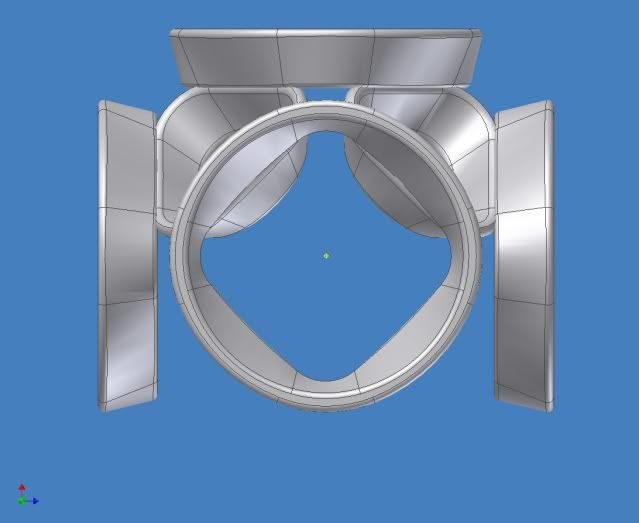 Edge View at "funny cusp"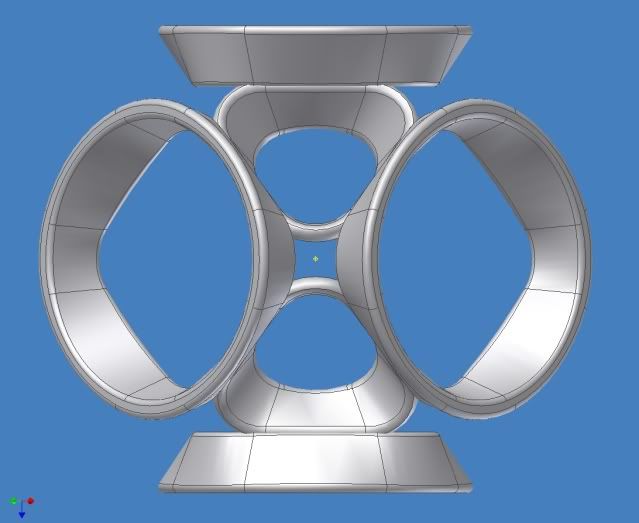 Radial view showing coils lined up with center of polywell.
Compare gaps between square coils to gaps between triangular coils. They are similar.
EDIT: This will not work because the set of coils closer to the center distorts the spherical shape of the wiffleball.