Here is the square planform truncube with the legs moved out of the funny cusp area.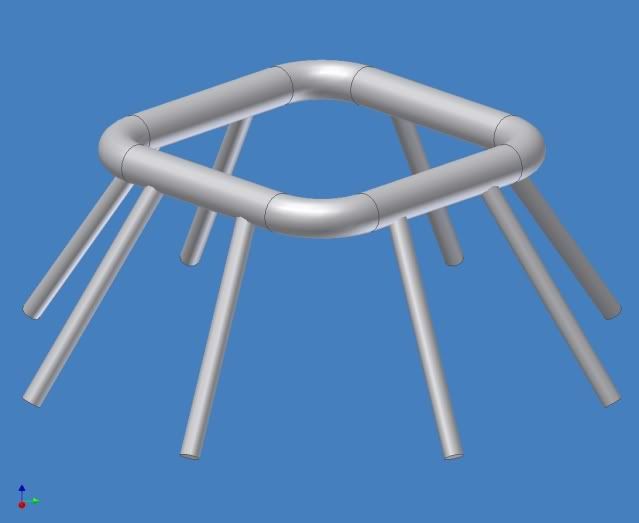 Then I started to try to calculate the loads on the coil.
I started with Indrek's equation at
http://www.mare.ee/indrek/ephi/force/
but quickly discovered that he solved the hard part numerically for only 3 configurations and that his maximum radius was 1 meter and we are modeling 2 meter radius..
Then I slowly discovered that I could not extrapolate to 2 meters with any confidence. (I tried using excel's multiple regression tool and found the resulting formula to be so sensitive to the coil spacing that it actually gave negative force predictions for some quite reasonable coil spacings.) This was not surprising given that the integrations he did must be quite non-linear.
So, I started trying to get my own handle on the force instead of using his black box.
I need an approximate model that is simple enough for me to solve.
To calculate (estimate) the forces on the bottom coil (Antarctica) I chose to substitute 2 concentric coils (tropic of cancer and tropic of capricorn) for the 4 coils on edge by reconnecting the corners at the equator (in my imagination) then including the top (arctic circle) as a third coil. The diameter is the one that will give the same area as the square coil. The spacing is some kind of average between the min and max of the actual coil.
BUT I stumbled over a problem: The load is not evenly distributed along the beam (of the coil supported by the legs).
The distance between the coil and the adjacent coil at the corner is 0.5 meter or less and in the middle it is 2 meters. Since the effect varies as 1/R the force varies by a factor of 8 or so.
This means that THE LEGS CANNOT BE ANYWHERE EXCEPT VERY CLOSE TO THE CORNERS for structural stress reasons. (I apologize for shouting but this is an important point.)